Expense tracking is a crucial aspect of managing any small business. It helps business owners maintain control over their finances, monitor cash flow, make informed decisions, and comply with tax regulations. This comprehensive guide will cover the importance of expense tracking for small businesses and offer practical tips for choosing the right accounting software, implementing best practices, and managing expenses effectively.
Importance of Business Expense Tracking
Tracking Business Expenses is vital for small businesses! It helps with cash flow, reduces costs & increases profits. Doing this lets you make smart decisions. You can also spot where you spend too much & boost financial performance. Here's some tips & tools to help you track expenses & grow your business!
Understanding Business Expense Tracking
Gaining knowledge on business expense tracking is essential for small businesses that want to grow and stay successful. Effective expense tracking aids small business owners in allocating resources, controlling their expense budget and monitoring incoming and outgoing expenses. It also helps them store client receipts, delivery invoices, and other monetary documents neatly and accessibly, making tax season simpler.
Handling small business expenses can be tough, but with the proper financial advice and tools, it can be made easier. Expense tracking software, like Billdu, provides special features for tracking expenses and automating deduction procedures. By sorting expenses and automating accounting tasks, small business owners can easily follow where their money is going and save time on bookkeeping.
Categorizing and tracking expenses is particularly relevant when it comes to tax season. Being able to tell the difference between personal and tax-deductible expenses can help to make the most of deductions and increase profitability. Additionally, having a clear outlook on business expenses can give helpful insights for business forecasts and help secure potential investors.
In conclusion, understanding business expense tracking is imperative for every small business owner. By using expense tracking tools, automating accounting processes and categorizing expenses, small businesses can optimize their business strategies, reach financial growth, and make tax season less intimidating.
Benefits of Tracking Expenses for Small Business
Tracking business expenses is a must. Whether your business is small or large, it is essential to keep tabs on expenses. For small businesses, it is especially important as it helps manage finances, anticipate business transactions, and accurately record income and expenses.
By tracking expenses, you can categorize them and find areas to save money. Plus, when tax season comes, you'll be able to easily provide an expense report to tax authorities.
Tools like spreadsheet, Online softwares like Invoice Crowd  can help manage expenses. Automation and personalization of an accounting system is possible with these tools.
Moreover, tracking expenses makes it easier to reconcile accounts and earn cashback from digital transactions. Also, paper or digital receipts can be tracked accurately.
Pro Tip: To guarantee efficient expense tracking, use an invoice and expense tracking software with powerful business expense tracking features.
Ways to Track Business Expenses
Track your business expenses with ease! It's a crucial part of managing your small business finances. Use effective methods to track your spending. This article's here to show you various ways to track your expenses. Save time and money in the end!
Here are some of the ways you can track your expenses:
Use a spreadsheet to keep track of all your transactions.
Set up a system for categorizing your expenses.
Automate your tracking by using online accounting software.
Create a budget and track your spending against it.
Review your expenses regularly to stay on top of your finances.
Establishing a Business Account
Creating a business account is important for any small business. It helps to track expenses more efficiently. Separate accounts make categorizing expenses simpler. It's easier to get records for taxes.
There are several options for tracking expenses, such as
credit cards
savings accounts
automated expense systems
or software
By using these, businesses can track their expenses, like team dinners or vacations, and keep personal and financial issues separate.
In summary, tracking expenses is essential. Having a business account makes expenses easier to manage and reimbursement possible.
Pro tip: Pick the expense tracking that fits your business best.
Taking Care of Receipts
Receipt care is a must for expense tracking in small biz. Paper receipts? A hassle. Plus, hard to organize. But, expense management software made life simpler. Automating saves time and effort, especially come tax time. Track expenses for better financial standing and smart decisions. Separating personal and business expenses can help too. Linking your business bank account with the software provides powerful features for forecasting. Keep receipts organized and categorized for accurate reimbursement requests.
In conclusion, tracking small biz expenses is key. Careful receipt management is the first step.
Pro Tip: Automate tracking and categorization with expense management software – time-saver and accuracy-guarantee!
Making a Detailed Spreadsheet
A spreadsheet, with detailed info, is a great way to monitor business expenses. You can organize them in one place, sort them and review them quickly for wise decisions. Tracking expenses on this allows you to forecast business and manage expenses better.
Both large and small businesses can benefit by tracking expenses on a spreadsheet. You can categorize expenses as business or personal, making it simpler to track expenses for reimbursements or accounting.
Software is available with features to track small business expenses and manage credit. Creating a detailed spreadsheet will improve your expense management process, leading to more success. Try out different expense categories or software to see what suits your business needs best.
Using Software
Software can help you manage and track small business expenses. It can offer features to monitor expenses and keep business and personal in one place. This way, you can plan your budget better and make informed decisions. Software can also make expense reimbursement smoother for you and your staff. Any business size can benefit from accounting software that provides forecast and tracks business credits and expenses.
Pro Tip: Choose software considering your needs and select one tailored to those needs.
Following Best Practices for Expense Tracking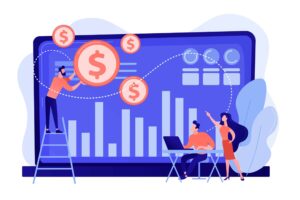 Expense tracking is a must for businesses. By following best practices, you can guarantee your accounting is precise and your expense software functions optimally. Powerful expense tracking features make it easier to monitor small business expenses and stay on top of finances.
Tips:
Set a budget
Store receipts
Categorize expenses
Review expenses regularly. This way, you can spot areas to save money and upgrade forecasting in the long run.
Pro Tip: Use expense management software to track expenses automatically and save time on data entry.
Seeking Professional Help
Need help tracking your small biz expenses? Get a pro! Powerful features in small business accounting software make tracking easier than ever. Consult a pro and utilize those features to get the best return on your investment. Whether you're just getting started or been in business for a while – have a clear system in place for tracking expenses. A pro can help streamline the process, setting you up for success.
Pro Tip: Don't be afraid to ask for help managing small biz finances.
Using Technology for Business Expense Tracking
Technology is key for better financial control in business. Automation, real-time reports, and receipt scanning make forecasting and tracking your expenditure simpler. This tech saves time and cash, plus you'll know exactly how much your small business spends.
Several software options even link up with accounting programs to make it easier to keep an eye on finances.
Pro-tip: Research the best expense-tracking software for your biz needs and invest in a good system to make financial management tasks more efficient.
FAQs about The Ultimate Guide To Expense Tracking For Small Businesses
What is Expense Tracking and why is it important for Small Business?
Expense tracking is the process of monitoring and keeping track of all business expenses. It is important for small businesses because it enables them to keep better track of their finances. By knowing where their money is going, businesses can make more informed decisions about spending and budgeting. It can also help them identify areas where they can cut costs and improve their financial health.
How does tracking your expenses help you in Business Forecasting?
Tracking your expenses can help you in business forecasting by providing you with a clear picture of your finances. By knowing where your money is going, you can project future cash flows and make more accurate predictions about your financial future. This can help you plan for future investments or identify potential risks that may affect your business.
What are the Powerful Business Expense Tracking Features that can help your Business?
There are a variety of powerful business expense tracking features that can help your business. Some of the most useful include the ability to categorize expenses, set up automatic transaction imports, generate reports, and integrate with accounting software. These features can save business owners time, streamline their processes, and help them make more informed financial decisions.
Why is it easier to track your small business expenses with Expense Tracking software?
Expense tracking software makes it easier to track your small business expenses for a number of reasons. For one, it automates many aspects of the expense tracking process, such as importing transactions and categorizing expenses. It can also generate reports that provide valuable insights into your spending habits and financial health. Additionally, it can integrate with other software, such as accounting platforms, to provide a more comprehensive picture of your finances.
Is Expense Tracking important for every Business?
Expense tracking is important for every business, regardless of size or industry. By tracking their expenses, businesses can gain a better understanding of their finances, identify areas where they can cut costs, and make more informed decisions about spending and budgeting. Additionally, accurate expense tracking is often a legal requirement for tax purposes.
How can you start to track your small business expenses?
To start tracking your small business expenses, you can use a variety of tools and methods. Some businesses prefer to track expenses manually, using spreadsheets or a pen-and-paper system. Others opt for software solutions that automate much of the process. Some popular expense tracking software options include Expensify, QuickBooks, and Xero. Regardless of the method you choose, it's important to be consistent and diligent about tracking every expense.