Content – one of the most important things in the online world
Today, 75% of businesses are investing more in content marketing, which has become one of the most important marketing strategies in their arsenal. This means that you do not have time to continue overlooking the importance of quality content, which is a way to improve your brand's visibility and stay engaged with your audience.
Content is truly king and it is extremely important to invest in it in today's digital business. There are several reasons why the focus has shifted to content in recent years, but one thing is for sure: good content sells a product. But let us start from the beginning – what is content marketing and why is everyone talking about it so much?
Why is content king?
Content marketing
Content marketing is about creating and distributing relevant content to intrigue users and get them to buy a product or service. However, at its core, content marketing is not about selling, but primarily about increasing audience interaction and the feeling of being connected to the brand in some way. It's part of inbound marketing, and the most popular forms of content are blog, newsletter, infographics, e-books, webinars, videos, and social media content.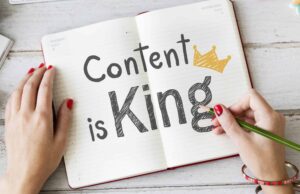 What does it look like in practice? Let us say you are an avid runner or runner looking for new sneakers. When you type certain keywords into a search engine, you come across an interesting and educational text about what good running shoes look like and what to look for when buying them. The text is located in the blog section on the website of the store that sells sports equipment, so you can make a purchase there right away.
How it works
This is exactly how content marketing works, and its goal is to convert visitors into customers through good content that the audience consumes. Its great advantage is that it attracts the same potential customers organically (unlike traditional marketing that seeks customers, in the case of content marketing, it is the customer who is looking for the product), so you do not have to pay for ads that attract them to your website.
In addition, quality content stays around forever, so future potential customers can find it. But remember that content marketing is not about quantity, it's about quality, as it's essentially about building a deep and long-term relationship with customers. Content marketing runs on the long run, and that means a lot of work, perseverance and consistency.
Content marketing as part of a Strategy Content Marketing works best as an integral part of the overall marketing strategy. Today more than ever due to the increasing use of various ad-blocking plug-ins and apps, marketers need to be especially innovative when it comes to finding ways to reach their target audience. Paid banner ads do not offer nearly the same ROI as they used to, and that's where content marketing comes in to save the day.
What does the research say?
All the numbers suggest that content marketing is one of the most effective ways to get the desired business results for companies that are willing to invest in it on an ongoing basis, not just a one-time campaign. Let's look at some of the research conducted: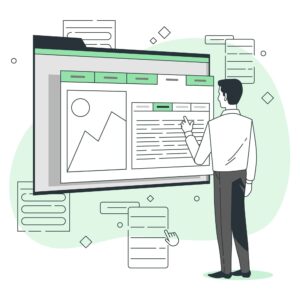 – A tweet with a photo is 150% more successful than one without one
– Infographics are 3 times more likely to be shared on social media than any other content
– Personalized emails have a 26% higher chance of being opened and read
– By 2018, as much as 79% of online traffic will come from video content
– Longer blog posts generate 9 times more leads than shorter ones
– 70% of people prefer to learn about a company through text rather than an ad
– 68% of users feel more positive after consuming branded content
Tell the story
An old-fashioned way to get your audience excited about your content is to tell a story and explain your products or services with real-life examples. People are naturally fascinated by stories because they have a clear beginning, middle, and end. You will get more responses with storytelling than with a simple text consisting of facts and statistics.
Storytelling is one of the best ways you can connect with your audience. When we incorporate stories into our content, we transform information from boring and informative to inspiring and engaging. By telling stories, you show that you care about solving real problems and helping your audience. A great example of storytelling is Microsoft with their blog called Stories, where there is an opportunity to share the human stories behind the brand and their technology.
Follow trends – but not always
Modern brands need to deliver creative, engaging and insightful content. The first step to engaging a brand in current social media marketing is to follow viral marketing trends. Sometimes brands respond to viral trends in a way that gives them even more relevance and exposure. But other times, their response to viral marketing trends has disastrous consequences. The internet is full of stories of brands that missed the idea of trends, got certain messages wrong, and ended in disaster. It was a similar story with the recent #DollyPartonChallenge.
Why is there so much confusion? The national music legend Dolly Parton posted a collage consisting of four of her photos – one for each leading social media platform: LinkedIn, Facebook, Instagram and Tinder. In the photo for LinkedIn, she dressed for business, in the photo for Facebook she looked casual and fun, she connected the art photo with Instagram, and the sexy photo with Tinder.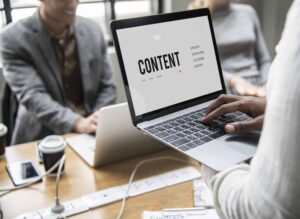 The post quickly went viral and everyone from Miley Cyrus to the famous Tower of London made their own version of this collage. Different brands had many failures, while others missed the point. What can we learn from all this? Implementing viral trends is not as simple and easy as it seems to us. If you follow trends, understand the idea of a particular trend, it is necessary to plan the announcement carefully and convey the message of the brand while knowing your audience well.
Plan what your content will look like
Last but not least, your content must be deeply integrated into your overall marketing strategy, it must follow a concrete plan to publish content on different platforms. The first step to achieving this goal is to create a smart marketing plan.
Some of the most important elements of a great content strategy are: defining your mission and goal, knowing your audience, finding the best channels, and strategically planning for content publishing. Those brands that have a clear content strategy are likely to see their content marketing efforts succeed.
So by investing resources (primarily time and money) into content marketing, you'll reduce costs while getting up to three times more leads that potentially lead to higher sales.
Get ahead of the competition and start investing in your own content or try to improve it