We find out why the number of coworking spaces in the world will increase 20 to 30 percent year-over-year in 2022.
If the pandemic has taught us one thing, it's that we all need to be part of a community and that one of the most important human needs is connectedness and belonging. This, along with networking and sharing experiences with people from other professions, is a huge advantage in the coworking business.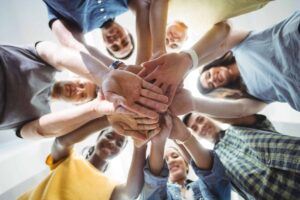 According to the McKinsey Global Institute, 20% to 30% of the working population is already self-employed in some form, so coworking can save them a lot of money. Because of all these benefits, it's estimated that the number of coworking spaces worldwide will increase by 20% to 30% in 2022. compared to this year. Coworking, or renting shared space for professionals who are not necessarily in the same business to work together, is the fastest growing trend in the business world.
At the very beginning, the coworking concept was intended more for freelancers just dipping their toes in entrepreneurial waters. In the meantime, it is also recognized by large companies that have realized that the contacts gained within the collective, which in many cases lead to successful business collaboration, are a great advantage. In addition, the rental price includes all costs for utilities, room cleaning, etc., which provides additional financial stability.
How does it work in practice
On average, an apartment of 100 square meters has a maximum of three tenants, who share a kitchenette, toilets, a meeting room… share. The rent for an office of 33 square meters, with common areas and no additional costs. If we compare this with the price of renting an apartment, it is clear that it is a profitable investment.
Lawyers, architects, IT companies, marketing agencies…, are the most frequent users of coworking. There is a lot of focus on user experience due to the increasing trend and rising competition. Coworking trends therefore suggest that space owners are focusing more on technologies that enhance the coworking experience. There is a growing demand for the use of offices in more cities because the customer can use them for several hours when they are on the move. In addition, the design of shared offices has evolved significantly. It's easy to fall in love with this modern facility, which offers functionality and aesthetics as well as what we need most today – a sense of home and belonging.
In addition to coworking, we offer an overview of other business trends
Focus on existing, loyal customers instead of acquiring new ones
Acquiring new customers is a longer and more expensive process than retaining existing ones. Research in customer care shows that it is five times more expensive to acquire a new customer than it is to motivate and retain an existing customer. In 2022, companies need to invest in improving service and maintaining existing customers and their satisfaction in order to see growth and development.

Less is more

Marketing is a means to attract and retain customers and clients. However, if you advertise on many platforms, chances are the results will not be good. Too many advertising options lead to wasted money and attention, and diluted results. Whether we are talking about digital communication channels or traditional media, consider what really contributes to your business and where you need to invest capital and energy to maximize success. Quality over quantity and clearly formulated goals will lead you to the goal you want to achieve!
Working from home becomes the norm
The pandemic that has been going on for the past two years has led to companies turning to work-from-home or remote work in masse. The situation we find ourselves in around the world has shown that it is possible for employees to work well even when they are away from the business premises. The coming year will be characterized by hybrid working (from the office, but also from home) – allowing employees to choose and organize how they want to work. There has also been an increase in demand for collaborative spaces. We mentioned this at the very beginning of the text.
Recruiting and retaining employees

Employers face new challenges in finding, hiring, and retaining employees. Various forms of motivation, such as retirement bonuses / employee activities / flexible work schedules and the ability to work from home, are becoming the norm in the workplace. In 2022, it is necessary to pay attention to how the company presents its culture, values and mission to employees – given that these concepts have been proven to be an important factor in deciding whether or not to accept a job offer.
Delivery
During these two years of the pandemic, many restaurants have shifted their focus to food and beverage delivery. Due to closures, movement restrictions, and passes, many restaurants have decided to introduce delivery either through mobile apps, website, or delivery services. The need to sustain business has conditioned this shift, which is sure to continue in 2022, with the difference that restaurateurs now have the opportunity to improve the offer and the way they can motivate customers, especially if we take into account the fact that customers are increasingly turning to delivery.
Branding

As the product line evolves, so does the competition. The question is, "How can you stand out and become recognizable?" One of the ways is high-quality and impressive branding that will surely make your offer stand out and be in demand in the market. In addition to high-quality branding, it is also necessary to expand the range and increase the availability of products in order to maintain them.
Solo travel

And if the trip is with family, partner or friends – the trend of more and more people traveling alone is on the rise. If you are in tourism, you should think about how to appeal to people who like to travel alone. What do they need and how can you cater to their needs? Research shows that the top reasons for traveling alone are work, the need to learn about new cultures and people, or vacation. While one group likes to hang out and meet new people, the other loves quiet and solitude. Think about which of these groups you can accommodate and what you can offer, then announce it.
Sustainable development and hotels

Ecology is a topic that has preoccupied many markets in recent years, so it has not bypassed the hotel and tourism industry. Customers are increasingly turning to sustainable lifestyles: recycling, green energy, zero-waste food and cosmetics, vegan options and reducing emissions. HOW can you steer your business in an ecological direction? What changes can you make? Do you have the space to become pet-friendly? All of these changes will be a reason for potential guests to choose you in particular!
Privacy and advertising

Digital platforms and advertising rely on the collection of user data so advertisers can optimize their ads and get the best results. However, the changes Apple has i
ntroduced and the growing need for online privacy bring new principles and the need for marketers to adapt. The need to find new ways to collect data and how it is stored will be an issue that marketers will be dealing with in 2022.

SEO optimization
The increasing use of the Internet has led to companies competing online when it comes to presenting, attracting and retaining customers. However, algorithms are becoming more advanced and the needs of the user are being prioritized. The user's satisfaction and finding what they need is more important than optimizing for the technical side. The user is the focus, not the robot, remember that.
Conclusion
Adaptation and willingness to adopt new business models and rules have been the themes this year, and this trend will certainly continue in 2022.
The need to turn to more noble business models and pay more attention to users' real needs rather than imposing ideas on them will be the biggest focus of the coming year.
Stay tuned, stay open to new ideas, and success will not be absent.